About Us
Denise Westbrook G.M.G. L.C.G.I.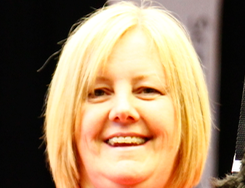 Always an animal lover, my grooming career started in 2002, a job that would add additional funds to my family's income and a job that I could work around my young children and groom our family dogs which was an added bonus.
What started as a hobby has ended up taking over my life, it is a passion and a job that I love dearly.
Dee is extremely passionate and invoved in the industry, and is regularly invited to talk and demonstrate her skills at seminars and events.
All staff regularly compete in dog grooming competitions and have won many awards.
Dee is a national and international award winning dog groomer and has won many placements with a variety of breeds.
Achievements
Multi International Award winning groomer and All round European Judge.
Competed in many countries around the globe Germany, Belgium, Poland, Italy, Spain Sweden, Denmark, Scotland and Wales.
International Speaker and Eduator in the UK, Denmark, Scotland, Wales and USA.
Dee is the only groomer to ever have been place in 3 out of the 4 categories to become a Groom Team England Member.
Dee represented England 2016/2017 and 2018/2019 in the poodle category.
World grooming competittion in Belgium England achieved a stagering 4th place out of 26 countries including America, China, Germany, Brazil and many more countries.
As an individual in the team of 4 Dee placed 5th out of 26 poodles in her category.
Dee is a member of the Guild of Master Groomers which is a lengthy qualification to an extremely high standard, a qualification held by only 28 groomer in the UK.
Examiner and Assessor for City & Guilds.
Show organiser UKs largest Dog Grooming Competition, Trade Stand and educational event "The Grooming Show".
YouTube educator.